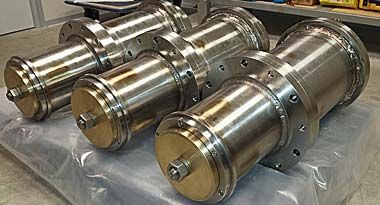 FCE designed, manufactured and qualified three air inlet valves for Group 2 of the EDF DPIH Dauphiné Field 2 power plant. Each unit is equipped with three air inlet valves located at the gate operating ring.
These valves have been classified as essential components for hydraulic safety (OMISH: ouvrages et matériels importants pour la sûreté hydraulique). Any malfunction or defect in the unit may cause an uncontrolled variation in flow (overflow, leaks, flooding, overpressure, etc.) which may endanger the life of a third party.
The role of these valves is to allow air to enter the turbine casing in order to counter the phenomena of water hammering and crushing. Their purpose is therefore to protect the casing and the turbine during transitional loads.