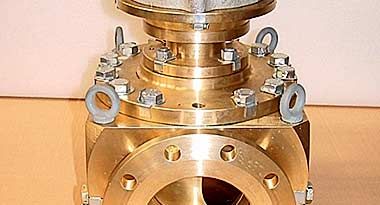 "India will celebrate its first Scorpène-class submarine", Naval Group (formerly DCNS) and the French government sold 6 submarines to India in 2005. The Indian military shipyard Mazagon Dock Ltd (MDL) in Bombay is responsible for the construction.
FCE, given its preliminary experience with Naval Group's export contracts (Chile and Malaysia), began discussions with MDL. In 2008, and after long negotiations, a contract of €2.7 M for the supply of valves for these 6 submarines was signed. On the basis of requirement specifications, FCE developed and qualified valves for use in, for example: Seawater circuits, diesel engine exhaust gas circuits, etc ...
Our design office engineers, the group's factory workers, especially those from our parent company SMRI and PMM, and the mechanics from the FCE workshop, were all involved in making this project a success.
At this time, all the valves have been delivered. MDL remains an active customer of FCE, and we regularly deliver spare parts for the maintenance of the equipment delivered during the construction of these submarines.
In the coming months, the Indian government is due to announce the production of three more identical submarines. There is also talk of India acquiring nuclear-powered submarines... there is very great potential! A partnership with a local company is necessary, in order to position ourselves in these new markets. Discussions are underway with an Indian company and we hope to conclude them quickly.